Message to the Cosmic Brain Trust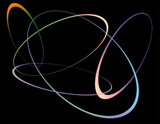 OK Cosmic Brain Trust, we are ready to begin the player designed Cosmic Expansion Set. This will be the first time (to my knowledge) that a group of gamers has hive-mined to produce a product. Tomorrow we will tackle a relatively easy alien by Phil Flieshman.
1. We are going to tackle the content item by item and archive the Fan Final Results off facebook on our own web pages, dedicated to this project.
2. Fan Final content will be passed on to Kevin when the time is appropriate for his design / development / editorial phase.
3. We will log the players who participated and give them a special recognition in the game. (My idea is an "Artifact" Artifact Card with fans micro printed on it). Gives fan a special something if your name is there.
4. For group think, use the Facebook group, Cosmic Encounter® Fan Expansion Set Design, to receive global updates and messages to everyone working on the current project. For our discussions we'll make a daily post on the main Cosmic Encounter® Facebook page and do our group think work there.
Facebook Thread
Cosmic Encounter: Design Ethos Think not just outside the box, but OUTSIDE THE REALM OF THE KNOWN UNIVERSE. Paraphrased from Bill: Try free association: what kinds of aliens / interactions / components have never been thought of; what areas of Cosmic Encounter or Cosmic Encounter® Online have been left untouched.
On Monday we will start with an alien that is fairly well along so we can iron out the process. So for now we are not brainstorming new stuff, but rather refining existing suggestions by players.
Fan Expansion Set Archive
We will archive as follows. For example an aliens is DONE when it has all the content below.

ALIENS

power
flare: wild; super
art ideas
history

CARDS

artifact
encounter
tech
destiny
rewards

OTHER COMPONENTS

moons
battle wheels
planets
ships
etc.

RULES
. . . for fun