- Current Work
Current Work - Laser - Saturday August 10, 2013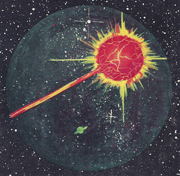 LASER MAKES OPPONENTS PLAY BLIND Green
You have the power to Blind. As a main player, before allies are invited, use this power. If your opponent has no encounter cards, he or she must discard his or her hand and draw a new one. Then, you select at random a number of cards in his or her hand up to the number of ships you have in the encounter. Place the selected cards facedown on this sheet, but do not look at them. They are not part of any player's hand.
If after blinding your opponent he or she has no encounter cards, you immediately win the encounter. Otherwise, the encounter proceeds normally. Your opponent retrieves the cards from this sheet at the end of the encounter.
(Offense or Offensive Ally Only) (Mandatory) (Launch)
Wild (IF YOU ARE NOT THE LASER)
As a main player or ally, you may discard up to 3 cards from your hand. Select up to the same number of cards at random from any player's hand (even your own). That player must set the chosen cards aside until the end of the encounter.
(Main Player or Ally Only) (Any Phase)
Super (IF YOU ARE THE LASER)
You may use your power as an ally, targeting either one of the main players after alliances are formed.
(Ally Only) (Launch)
History
Descended from an ancient sun‑worshipping cult, the modern Lasers have learned to focus stellar power accurately enough to bedazzle any opposition. They have now embarked on a plan to spread confusion and fear among their enemies before stepping in to build a coherent Cosmos in their own image.
. . . for fun