. . . work, collaboration, events, links, and ideas . . .
by wceDesign, wcePublishing
(through June 2013)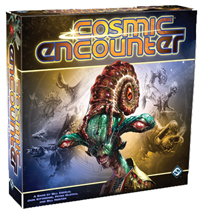 latest version with the new cover featuring Cosmic Aliens and 5 Expansion Sets (Cosmic Incursion, Cosmic Conflict, and Cosmic Alliance, Cosmic Storm, and Cosmic Dominion) available now at Fantasy Flight Games.
available now
The Expansion Set Designed by Cosmic Fans!
Tech Geek Gamers Cosmic Encounter from start to finish!
You could tell that these at first, skeptical veteran gamers were left quite surprised at how much fun this "simple yet complex game" was to play. So many other games leave you with that "Ok, so we played that" feel. Here, the eager anticipation of more games was immediate & unmistakable. Such is the magic of Cosmic!
– Cosmic fan, Gregory Metzger
Fantasy Flight Games

based on the classic game system
by Bill Eberle, Jack Kittredge, and Peter Olotka

Fantasy Flight Games

the classic Borderlands game system
by Bill Eberle, Jack Kittredge, and Peter Olotka
behind the cosmic curtain with Bill Eberle
(future project)
Jack Reda's
find and explore most of the Cosmic alien powers invented and published or publicized through time in Jack's amazing online database.
Bill Martinson's AN ENCYCLOPEDIA FOR COSMIC ENCOUNTER®
explore Bill's comprehensive galaxy hiker's guide to the Cosmic universe
from Maine Quality Information Partners, Future Pastimes, Eon Products, and Fantasy Flight Games
Read all about it. News about the news . . .

of Cosmic Encounter® Board Game by Drakkenstrike
YouTube - Drakkenstrike's Cosmic Encounter Components Breakdown Video Review in HD
by Robert Florence
More ludo-erotica in the boardgame show for the ages. This time it's Cosmic Encounter!
Hang in there past the first part. It's well worth it. Wonderful and hilarious! – Bill
. . . for fun